Warmly celebrate ETONM's honorary qualification of "High-tech Enterprise"
According to the relevant provisions of the State "High-tech Enterprise Certification Management Measures", after the strict review by the National High-tech Enterprise Certification Management Leading Group Office, ETONM MOTOR successfully passed the "National High-Tech Enterprise" on November 9, 2018, and recently received it. It has been awarded the "High-tech Enterprise" certificate jointly issued by Shenzhen Science and Technology Innovation Committee, Shenzhen Municipal Finance Committee and Shenzhen Municipal Taxation Bureau.

The high-tech enterprise is recognized in the high-tech field supported by the state, and it is aimed at fostering the creation of enterprises that continue to carry out research and development and transformation of technological achievements, form core intellectual property rights of the enterprise, and carry out production and management activities based on this. New technologies and new formats will promote economic upgrading and development. National high-tech enterprises have strict requirements for enterprises and are managed by the Ministry of Science and Technology, the Ministry of Finance, and the State Administration of Taxation. The acquisition of high-tech enterprise certificate is a full affirmation of ETONM MOTOR's strong scientific and technological innovation capability, core independent intellectual property rights, scientific and technological achievements transformation ability and high growth of enterprises.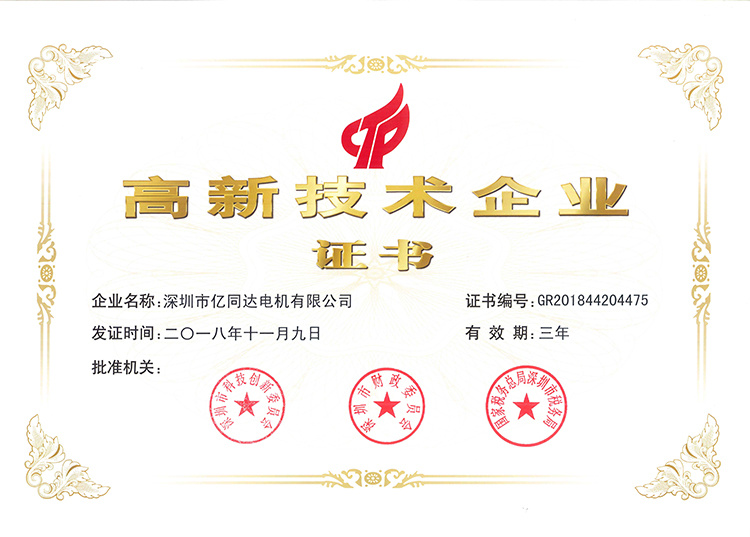 Technological innovation is the driving force for enterprise development, and innovation driving is the basic premise of enterprise development. Since its inception, ETONM MOTOR has been focusing on the development and industrialization of DC geared motors, planetary geared motors, worm geared motors, brushless motors and DC motors. It is a company integrating R&D, production and operation of the domestic geared motor industry. . The company has always been adhering to the management philosophy of [customer first, technical customization, first-class quality, professional service]. In order to implement the quality management policy, the company has established two separate production bases for the DC motor plant and the geared motor plant. The company adopts a full set of motor automation production and testing equipment, employing more than 210 skilled employees and more than 26 technical engineers. It has passed ISO9001, ISO14001, ROHS, CE and other certifications. It is a small start-up, complete variety and large scale in China. A professional manufacturer of modular gears and micro DC motors.
ETONM MOTOR has been recognized as a national high-tech enterprise, which plays an important role in promoting brand value and enhancing the company's comprehensive competitiveness. The company will take this opportunity to continue to increase investment in research and development, continuously improve the core technology research and development of geared motors, and accelerate the transformation of technological innovation results, and further play the role of industry demonstration and tie.