ETONM MOTOR is changing its Bank Account to collect payment.
Thank you very much for your trust in ETONM MOTOR, because of your trust ETONM MOTOR is growing very fast in the past 5 years. Now its become the National High-Tech Enterprise in end of 2018. Due to this, the local government is requesting ETONM MOTOR is use its Chinese Name(深圳市亿同达电机有限公司, SHENZHEN YITONGDA ELECTRIC MOTOR CO., LTD; ETONM MOTOR is Hongkong Name) to doing exporting and importing.
Therefore, from 5th March 2019, ETONM MOTOR will gradually start to use SHENZHEN YITONGDA ELECTRIC MOTOR CO., LTD to collect payment. Of couse, during this switching period, the former account of ETONM MOTOR will still be valid. We are sorry that it will bring inconveniency to you.
Gradually, ETONM MOTOR will become a brand name.
Here are some official documents for this change.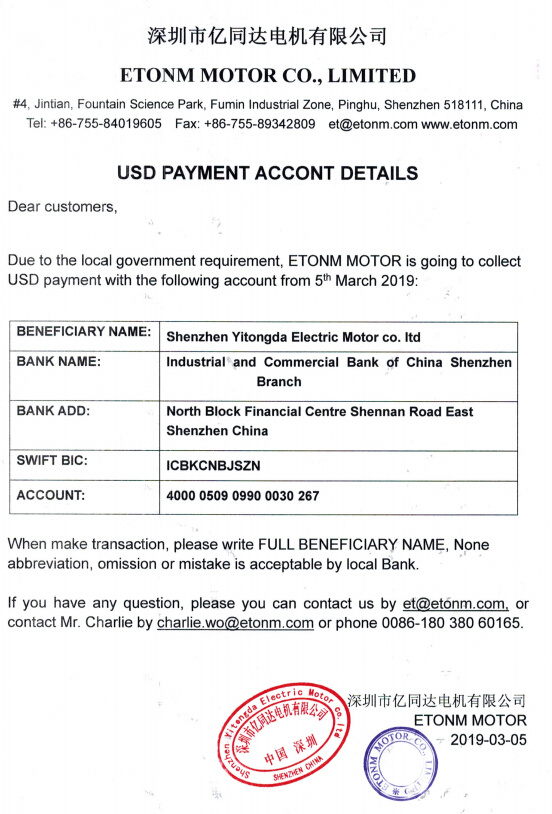 Gearbox Fac: #4, Jintian, Fountain Sience Park, Fumin Industry Zone, Pinghu Town, Shenzhen 518111 China
Motor Fac: #5, Xinxia Industry Zoon, Pinghu Town, Shenzhen 518111 China