---
1. UNIT Conversion Chart
UNIT OF TORQUE

gf.cm

kgf.cm

N.m

mN.m

N.cm

lb.in

oz.in

gf.cm

1

0.001

0.000098

0.098

0.0098

0.000868

0.013889

kgf.cm

1000

1

0.

98

9.8

0.868

13.889

N.m

10200

10.2

1

1000

100

8.85

141.64

mN.m

10.2

0.0102

0.001

1

0.1

0.00885

0.142

N.cm

102

0.102

0.01

10

1

0.0885

1.42

lb.in

1152

1.152

0.113

113

11.3

1

16

oz.in

72

0.072

0.00706

7.06

0.706

0.0625

1

Explanation : 1kgf.cm=1000gf.cm 1N.m=10200gf.cm 1mN.m=10.2gf.cm 1N.cm=102gf.cm 1Ib.in=1152gf.cm 1oz.in=72gf.cm
2. How to choose the right motor from our series?
This is the most important process, because a good quality product is mainly by designed, not produced or controlled. If the choice is great, the future quality is easy to control, easy to purchase, lead time is short, cost is low.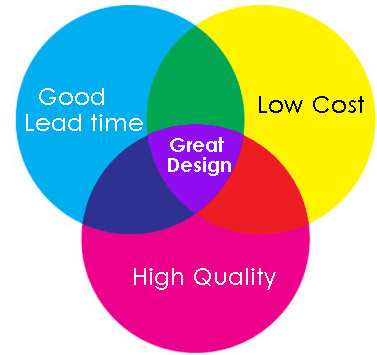 We can choose motor from the following steps:
1.Shape

2.Dimensions

3.Performance

4.Special Requirements

Flat

L*W*H

Voltage

Rated speed

Rated torque

Lifetime

Detent torque?

Noise?

others

Linear1, Linear2

Diameter*L

Right Angle

L*W*H
3. What is DC Motor?
Dc Motor is a device used to transfer DC Electrical Energy into Mechanical Energy. It was first designed by following the simple but important physical rule In magnetic field a current-carrying conductor is subjected to a force. See Structures: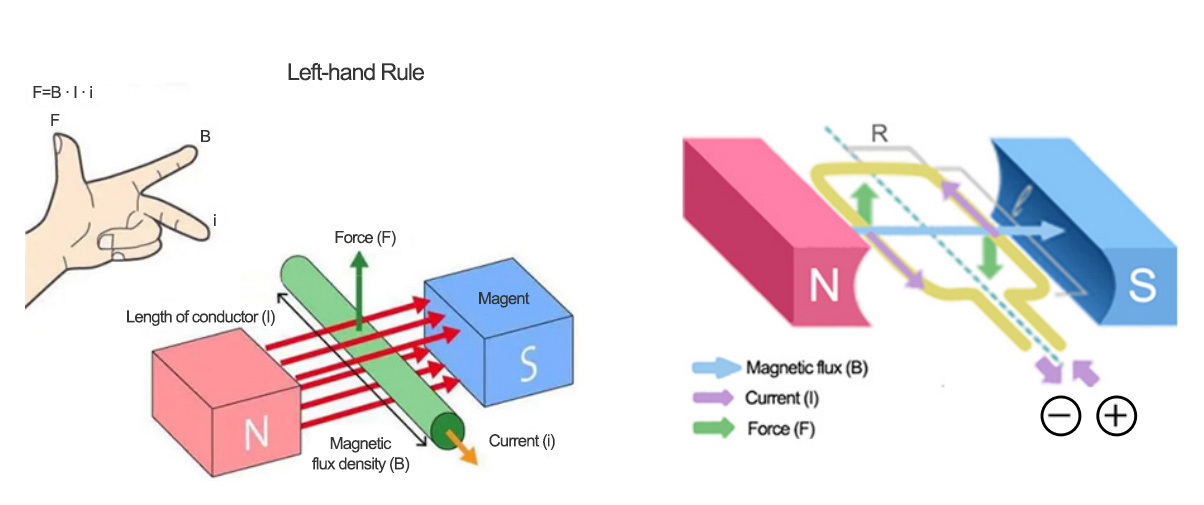 Electromagnetic force is obtained from the equation;


Right figure illustrates the torque obtained when a single-turn conductor is placed in the magnetic filed.
The torque produced by the single conductor is obtained from the equation;


T'

(torque)

F

(force)

R

(distance from the center to conductor)
Here, there are two conductors present;


4. What is Gear Motor:
Gear motor is a DC Motor mounted with a Gearbox(also called gearhead). The gearbox is used to reduce the motor speed while increase the motor's torque.


5. Can the motor run in CW(clockwise) and CCW(counter-clockwise)
Yes, all of our Brushed DC and Gear Motor can be used in both CW and CCW. For Brushless motor, if you have this requirements, please let us know in advance, we will draw an extra lead for this function.
6. Does Etonm Motor make Helical Gear?
Yes, for some special purpose, we make the gear to be Helical.

7. If I donot know how much torque I need, how can I figure it out?
There is a simple way to figure it out. Only 2 steps:
1. send us the rough torque range, and the dimension limitation, then we will offer a type with few samples for your testing.
2. During the testing, record the motor rated and max current and feedback to us. We will compare the current with our curve at hand, it easy to find the torque there. The the sample torque is not enough, please increase the input voltage bit by bit until you get good torque and speed, feedback the rated and max working current to us, we will find the torque value on another curve.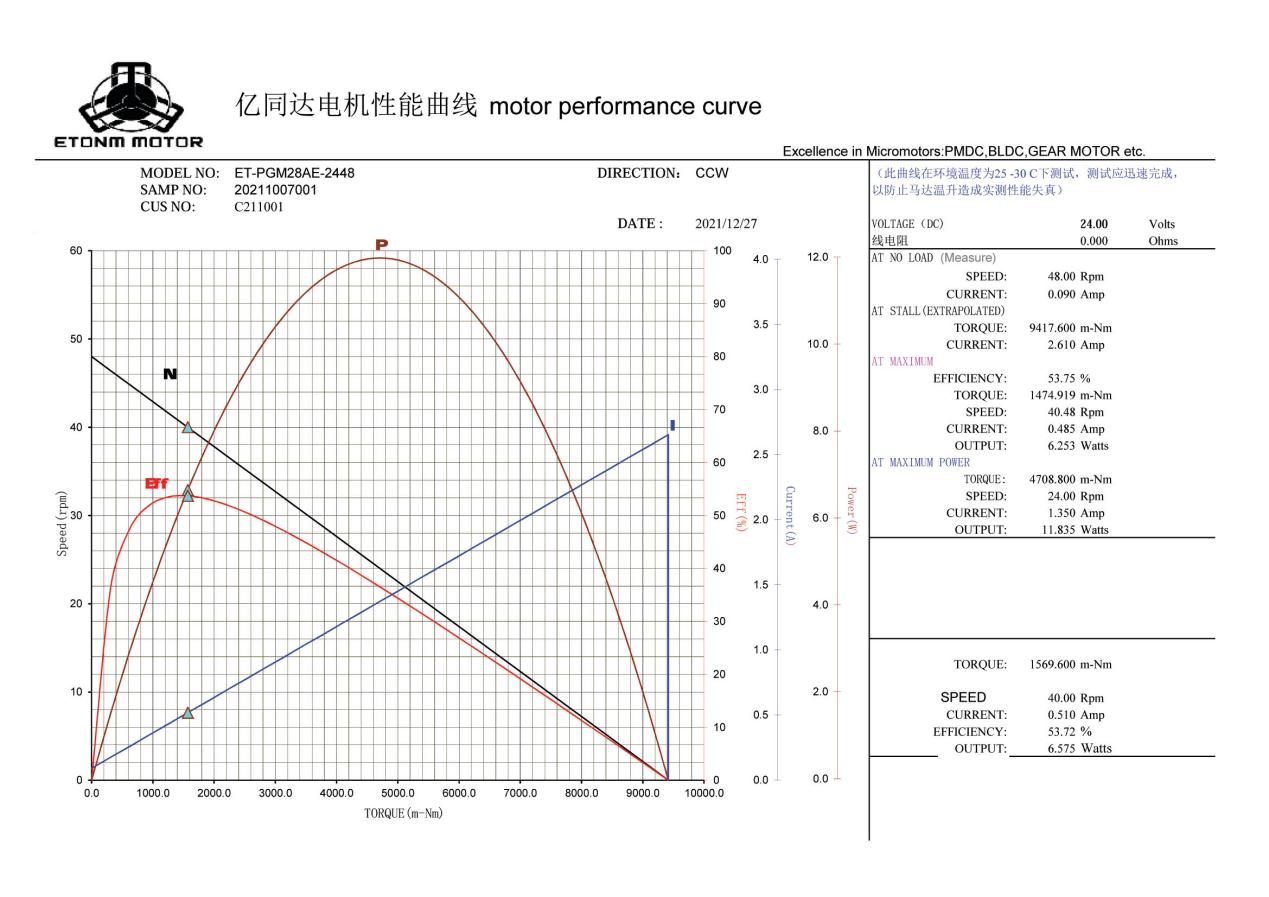 8. How to reduce the motor noise?
This is a constantly and usually asked question. Etonm has 9 years experience with the noise control experience, we have many ways to handle different noises, like different gear materials and production technics, grease and DC Motor control. If you like to know more, please contact us directly(et@etonm.com).
9. Can Etonm customize the motor?
Yes, ETONM is a customized motor supplier. Most of motors for present customers are customized, We can customize the voltage, speed, torque, current and noise; customize dimensions, like shaft, motor body; extra cable&connector, worm, gear, encoder support, etc.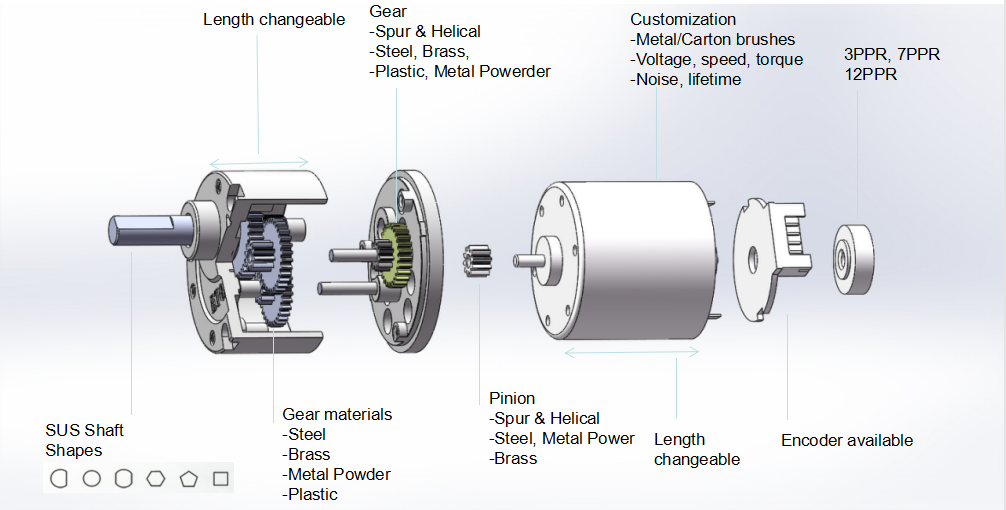 10. Can I get samples for testing before ordering?
When you need samples for testing, please contact us directly, we will answer your inquiry no later than 24hours.